Geotechnical
Engineering
Modelling
Software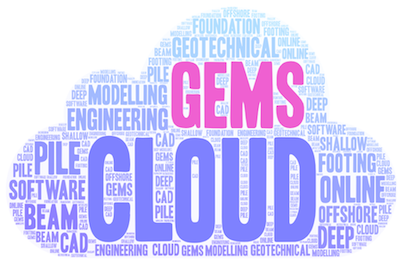 Try

G

E

M

S

Foundation analysis suite for FREE on the cloud using your browser.
Get started in 3 easy steps:
Signup by filling the signup form.
Get your username and password in your email.
Click on the Login button, enter your login credentials and run our Beam Foundation Analysis and Offshore Pile Foundation Analysis applications.
Free Trial vs Cloud Subscription
| | Free Trial | Cloud Subscription | Cloud Subscription Enterprise |
| --- | --- | --- | --- |
| Beam Foundation Analysis | ✓ | ✓ | ✓ |
| Offshore Pile Foundation Analysis | ✓ | ✓ | ✓ |
| Comprehensive Pile Foundation Analysis | ✓ | ✓ | ✓ |
| Devices - Phone, Tablets & PC | ✓ | ✓ | ✓ |
| No analysis restrictions | ✓ | ✓ | ✓ |
| Reliable safe & secure | ✓ | ✓ | ✓ |
| Storage space for user files & reports | 10 MB | 100 MB | 100 MB/user |
| Copy paste of results | ✗ | ✓ | ✓ |
| Export results to Microsoft Word | ✗ | ✓ | ✓ |
| Export results to Microsoft Excel | ✗ | ✓ | ✓ |
| File transfers to/from user computer to cloud | ✗ | ✓ | ✓ |
| Trial Watermark on results / graphs | ✓ | No for licensed modules | ✗ |
| Number of users | 1 | 1 | Minimum 5 users |
| Software licensing | Trial for 30 days | A La Carte subscription license | Per User license |
| File sharing amongst users | N/A | N/A | ✓ |
| Billing | N/A | Individual level billing on a monthly or quarterly basis | Organizational level billing on a quarterly basis |
| | | | |